Last summer, I had the fantastic opportunity to take part in a real-life research placement through the Cardiff Undergraduate Research Opportunities Programme (CUROP). It was exciting because I was able to explore some of the stereotypes in STEM subjects, and why women specifically are still considered a minority within STEM fields. Despite numerous interventions, Women still only make up 25% of the STEM workforce – and I wanted to find out why.
From the multitude of literature that there is on the subject, it is clear that attitudes towards science, rather than aptitude for science puts many young people off from going into STEM careers. Previous research showed that interest in science declines as children get older, with a sharper decline for girls. The view that science was "not for me" – and was suited to "certain types of people" was a common reason for girls not pursuing science. It also was apparent that girls generally have more altruistic motives than boys, and so tended to opt for biology and medicine careers within the sciences.
The project I was a part of focused on the role models of primary school children and explored the possibility of incorporating scientists as role-models in the classroom. This would be in order to inspire these pupils and positively influence their attitudes to scientists and STEM careers.
This was implemented in a fun interactive show put on by science made simple, entitled "Who Wants to be a Superhero?" Not only did it involve live demonstrations and audience participation, but it also featured videos of local, real life scientists talking about their jobs at the forefront of science and technology – four of whom were female. They were described as "real life superheroes" with exciting superpowers, such as the astrophysicist having the power of X-ray vision and the aeronautical engineer having the superpower of flight.
Data was collected from four different primary schools in England and Wales, with pupils aged 10-11. Their attitudes to science, scientists and science careers were assessed both before and after seeing the show.
The show had a greatly positive effect on pupils' attitudes. Seeing the show increased STEM career aspirations for both boys and girls, and the perception that scientists were "crazy", "nerdy" and "clever" was reduced, with a more significant reduction in the girls' responses.
Girls, on average, did have more altruistic aspirations than boys, but the show was able to increase their perceptions on science's "helpful" nature. Pupils were also more likely to aspire to a science career if they had a real-life family role model working in STEM.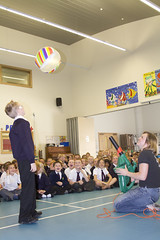 Some other interesting findings were:
Pupils may be put off a STEM career because of its dangerous nature
Both boys and girls were aware of the gender stereotypes and sexism in science
The main reason for identifying with a role model was from a shared interest or the pupil's perceived enjoyment of the job
Of course, it still will be some time before there is an equal ratio of male to female in the STEM workforce. However, this has proved that if scientists are shown in a positive light, and children have real-life, multidimensional role models of all genders, things can change for the better.