The life of a third year medical student in Aberystwyth:
When I chose to spend my third year of Medicine in Aberystwyth instead of Cardiff, it wasn't the product of a structured series of emotions and thought processes but, on the other hand, it was sort of a rushed decision dictated by my need and desire to live somewhere other than Cardiff while studying medicine. That rushed decision ended up being one the best I have taken in my academic life so far, and I am about to explain why.
Academically speaking:
The way the programme is set up and designed reflects entirely my preferred way of learning. CARER allowed me to build a continuity in my learning – both clinically and theoretically with the different tutorials – which I otherwise doubt I would have been able to establish in Cardiff. This was thanks to the longitudinal aspect of the programme, with regular placement in the GP surgery throughout the year and constant contact with the Hospital and the Postgraduate Centre, which provided us with RCPE events and other learning opportunities. Twice during the course of the academic year, we had placement blocks in the general hospital, either in Surgery or A&E; on top of that, we were told plenty of times we would be welcome in the hospital whenever we wanted to get experience or had anything we wished to see. Needless to say we took advantage of that offer and we were always welcomed by the whole hospital staff.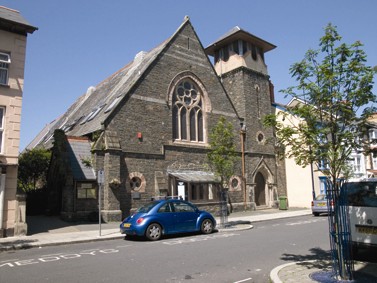 The surgery I was placed in was Church Surgery, one of the two GPs in the centre of town, theoretically under the supervision of Dr Khare, however, as soon as I stepped foot into the Surgery, I felt part of the medical family and everyone took an active interest in my learning. By week 3, I had my room and was seeing patients by myself, I was talked to as part of the team and was made felt welcome. This exposure has helped me immensely in working on my major flaws, mainly in history taking and self-confidence.
Secondly, the amount of support we received from the lead of the programme – Dr Sue Fish – is something that I found to be super helpful, and something I probably wouldn't have been able to survive without. Third year turned out to be more intense than I expected, and Dr Sue's help proved to be fundamental.
The life in general:
Other than the placement and tutorial side of things, Aberystwyth has a lot to offer, with its huge University population and local events happening regularly. I remember how, in the first week in Aber we got overwhelmed by the number of things going on in town, from the food market happening every month to the night clubs and pubs scattered around the centre. The University also provided a multitude of possible activities, from (FREE!) gym membership to societies and clubs. Francesca and I decided to take part into the Taekwondo society and the welcoming atmosphere was incredible. All these activities, on top of the nice park run atmosphere and the number of outdoor places, has helped me becoming the most active version of myself.
Even between the 7 of us Cardiff students, we have enjoyed a lot of time together, growing very close and sometimes going on "CARER adventures", from Devil's Bridge to Bwlch Nant yr Arian.
The Aberystwyth night life is also amazing, from Pier Pressure – a literal pier which transforms into a night club in the evening, ideal for a typical student night out experience – to the classier cocktail bars such as Y Bañera and the libertine.
Something else I am sure I am going to miss once I am back in Cardiff in September is all the amazing food places, with a special shout-out to Medina, or place of preference for Christmas dinners and social gatherings.
Four of us at Pier Pressure on one of our first ever nights out in Aberystwyth. Such a good night <3

A nice pic of four of us at Devil's Bridge.

Christmas Dinner at Medina with the CARER family
All in all I have enjoyed my time in Aberystwyth even more than expected, thanks to the close relationships that I have built with the GP surgery, the hospital doctors, Aber uni students and especially the amazing group of people who has undertook this experience with me.